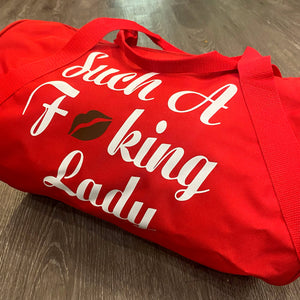 Such A Fucking Lady Duffle - Brown Lip
This multipurpose duffle bag is fit for all your travel and necessities-perfect for the Queen on the go! Our Getaway bag features a single zippered main compartment, a detachable shoulder strap and a small zip pocket on the left end for small, easy access items. Our bag is 18x10" in size.
*Our bags clear standard carry-on dimensions/regulations administered for ALL airlines. (yes, Spirit included!)
Limited edition!