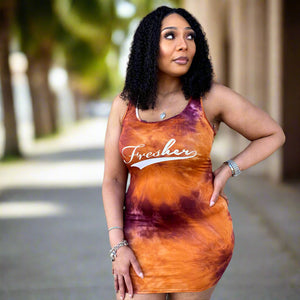 Fresher Bawdy Dress - Rock & Rye
We love a rich blend! This bawdy dress features our super soft stretch material, each dress dyed and giving 1 of 1 energy in warm shades of nude, orange & wine. Our classic logo is bright white against the unique dye across the chest. You'll also love the updated high cut arms to hide bra straps. Glow and feel comfy yet sexy in this sleek dress under a purple light!
Model wearing size large; fits true to size with stretch.