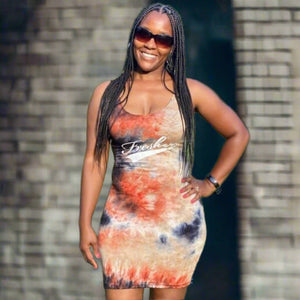 Fresher Bawdy Dress - Sunset Dye
We can't keep this dye in stock! Back again, this sunset dyed 1 of 1 dress features our super soft stretch material, hand dyed in deep vibrant shades of oranges, nude and blues. Our classic logo is bright white against the unique dye across the chest. You'll also love the updated high cut arms to hide bra straps and added 2 inches for curvy shapes and comfort. 

fits true to size with stretch.