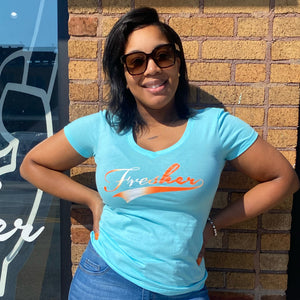 Fresher V Neck - Orange Cream Blend Tee
Nothing says fresh like the crisp shade of sky blue! Our latest 1 of 1 batch of tees are a pre washed soft cotton, featuring our signature deep v for a little cleavage action. Each shirt has been hand printed in our classic logo with vibrant shades of swirling white and orange. 

Fits true to size with stretch. 
Limited stock!