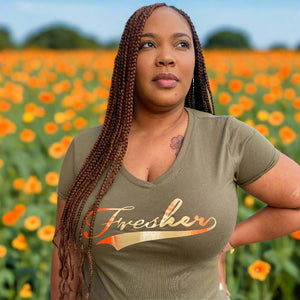 Fresher V Neck Tee - Olive/Orange Blend
Our latest signature v neck tee is giving all the Fall vibes! Enjoy a day out the orchard or wherever your errands are in our comfy olive tee shirt with a deep v neck, featuring our classic Fresher logo in a sleek mix of tans, oranges and a razzle of white. Just add jeans and your favorite comfy shoes! 
Model wearing size XL. Fits true to size with stretch.